PRESSMEDDELANDE
B!BBInstruments AB, 2017-05-03
B!BBInstruments genomför nyemission och förstärker styrelsen inför kommersialisering och notering på AktieTorget
Prisbelönta medicinteknikbolaget B!BBInstruments, med säte på Medicon Village i Lund, har genomfört en nyemission om ca 4,6 MSEK för att möjliggöra kommersialisering av EndoDrill® GI Upper, bolagets första cancerdiagnostikprodukt (s k biopsi-instrument). Grundaren Dr Charles Walther och LU Holding AB, Lunds universitets holdingbolag, är fortsatt största ägare i bolaget och får nu sällskap av ALMI Invest, Swedish  Growth Fund, Fårö Capital AB (Christer Fåhraeus) samt ett antal privata och institutionella investerare. Styrelsen förstärks med Erik von Schenck som ny ordförande.
Pressmeddelande (pdf)
PM B!BBInstruments 3 maj 2017 170503
Stockholm, May 10, 2016
Sweden's Super Startup 2016
B!BBInstruments was awarded Sweden's Super Startup 2016 along with the prize money of 250 000 SEK by the largest business magazine Veckans Affärer./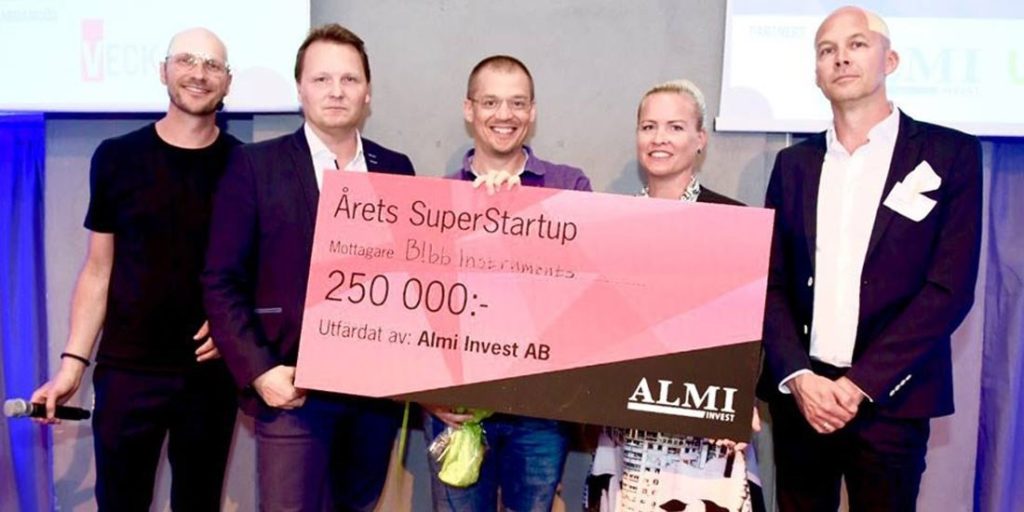 ---
Lund, May 13, 2016
First clinical study with EndoDrill® published
B!BBInstruments completed a clinical pilot study in 2015 including 10 patients examined with the EndoDrill® instrument. The aim was proof-of-concept to see if the method could deliver diagnostic material in patients with submucosal tumors. The EndoDrill® instrument resulted in larger total size biopsies and larger submucosal part of the biopsies than conventional forceps.
The study is peer- reviewed and published in the scientific journal, Surgical Innovation, "A New Method for Endoscopic Sampling of Submucosal Tissue in the Gastrointestinal Tract"